Call for Entries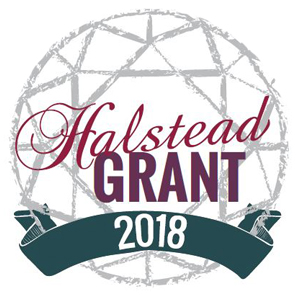 The Halstead Grant is calling for entries to its 13th annual competition for emerging jewelry artists working in silver. The grand prize winner receives a $7,500 cash grant as well as $1,000 in jewelry supplies, a feedback report from the judging committee, a trip to Halstead headquarters in Arizona, and recognition in the field. The top 10 finalists are all recognized with signature trophies, smaller cash prizes and individual feedback reports. The deadline is August 1. To be eligible, applicants must be US citizens who started their businesses within the last three years. Jewelry artists should have a jewelry collection with significant use of silver ready to present to the market. The grant experience is a business development exercise to help jewelry start-ups establish clear goals for the early years of their studios.

Applicants must submit a portfolio and answers to a series of essay questions that outline a business plan. "We break it down to make strategic planning less intimidating," said Halstead President, Hilary Halstead Scott. "However, it is still intended to challenge applicants. Searching for resources and persevering are critical skills for entrepreneurs." Questions cover all aspects of operating a small business including:
What is your pricing strategy?
What is your current production capacity?
What are the signature elements of your collection?

"We don't expect candidates to have all these answers off the top of their heads," said Halstead Scott. "Part of the process is reaching out to your network for advice and hitting the internet for tools and information to help guide you. Small business owners need to stretch out of their comfort zones almost every day to wear different hats. This program is a great way to get jewelry artists into that mindset."

Candidates who complete the application feel empowered. The experience of preparing a strategic plan coupled with the feedback from the judges gives new jewelry studio businesses a road map for success. Past finalist Emily Shaffer said, "Filling out my grant application was one of the most challenging, yet fulfilling tasks I've had in the early stages of my business. The process allows you to reflect on your present business and what you must to do make it a successful brand in the future. It's like a business plan template!"

Each year, the grant competition is judged by Halstead leaders as well as a guest juror from the jewelry community. In 2018, Michael David Sturlin will be joining the team. Sturlin has 40 years of experience as a jewelry artist, educator, writer, consultant and award winning goldsmith. He has contributed to numerous trade publications and taught workshops around the globe. He was a faculty member at the Revere Academy of Jewelry Arts since 2005 where he taught the popular course Jewelry Business Essentials.

The program is sponsored by Halstead, a jewelry supply distributor to studio businesses around the world. Halstead is a second generation family owned business. The company's core mission is to help small jewelry businesses to succeed.



Find out who won the 12th annual Halstead Grant in this quick video with Hilary Halstead Scott and Katie Hacker at the Halstead HQ. Thanks for watching!

Download the 2018 Halstead Grant Application now.

Scroll down to see last year's 2017 Finalists' collage below.
---