For decades, as a supplier of jewelry supplies and tools, Halstead Bead Inc. has been involved in the business of art - but the company is also all about the art of business. Eight years ago, the company awarded the first Halstead Grant recognizing business savvy as well as artistic talent.
"We wanted to create a buzz with the grant, but we also wanted to give back," said Hilary Halstead Scott. "We decided to create a grant that would have a greater impact on fewer people and focus on one winner."
To be eligible, a designer must be a student or professional jeweler who has been in business for three years or less. Applicants must intend to pursue a full-time career in jewelry design by developing a branded line of jewelry for resale at a regional or national level.
If you apply for a Halstead Grant, you must work primarily in silver - and equally important - must be ready for a serious application process. Applicants submit not only their designs but also answer a detailed series of questions describing their business plan.

The newest grant winner is Rebecca Rose of Davenport, Fla. Rose creates tiny sculptures meant to be worn as rings or displayed as art. Since receiving the grant, she has been asked to exhibit at the first International Art Jewellery Biennial at the Beijing Museum of Contemporary Art and her work has appeared in the September issue of British Vogue.
Return to Top
---
When you complete the questions - even if you don't get the grant - you'll have a well-thought out business plan that could go a long way toward getting a talented designer established in a tough field. Art is not for the faint of heart and neither is the Halstead process, but they both come with wonderful rewards.
The winner of each year's Halstead grant receives prizes including a $5,000 cash business grant, a $1,000 Halstead gift certificate and a one-page feature profile and jewelry showcase in the Halstead catalog and website.
While the first eight Halstead winners all agree that the money and exposure were hugely helpful to their careers, it's the journey to a robust business plan that gets equal credit for their success.
It should be no surprise that the Halstead grant has a business brain guiding its artistic heart. Scott, the second generation Halstead at the company's helm, has a strong business background to go with her own artistic upbringing. She returned to the family business 11 years ago after getting a master's degree in international business management and working for a time in Europe.
"My early career had a big influence on how we designed the grant," Scott said. "When I was going through the MBA program there was an emphasis on business plans and there were a lot of business-plan competitions."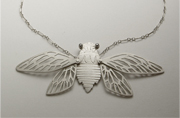 Susan Elnora, from Minneapolis, Minn., won the grant in 2012. Elnora's imagery involves animals, the collision of the industrial and natural worlds and American mythology. She creates her pieces as a form of storytelling, and many can be layered together to create a unique wearable narrative. Elnora often uses linear perspective in layered landscape necklaces.
Return to Top
---

"We wanted to create a buzz with the grant, but we also wanted to give back."
~ Hilary Halstead Scott

The seed for the grant was planted much earlier though. Scott remembers her dad's exasperation with designers who wanted nothing to do with the business aspect of being a working artist.
"He'd say it was a point of pride for some of them to know nothing about business."
The first generation of Halsteads, however, have 40 years of experience successfully marrying art and business. Tom and Suzie Halstead started Halstead Bead in 1973 in Phoenix when Tom bought a strand of antique African trade beads. He showed his purchase to colleagues at work and immediately had orders from half the women in the office.
The Halsteads started making jewelry for craft shows, but the hobby turned into a business in 1975 when they started selling jewelry full-time. The business continued to evolve until the Halsteads stopped making jewelry and started reselling wholesale beads. The company now sells a complete line of jewelry supplies and tools to designers and retailers across the country. Tom is largely retired now, and Suzie is following in his footsteps. Scott is taking over the principle management role.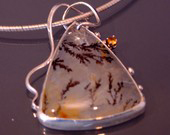 The grant went to Philadelphia artist Layne Freedline. Layne Designs' jewelry features unusual gems set in handcrafted sterling silver settings. Much of her work is custom-made for one of a kind engagement rings and wedding bands. Freedline recently split her business into two branches, adding a line of more casual materials and styles for a budget-friendly price point.
Return to Top
---
Both generations of Halsteads still take part in the thoughtful and exhaustive process of judging the grant applications, however. First, each judge gives every application a quantitative score, with a series of design-related elements getting scored from 1-7. After the scoring trims the group down, the remaining applications are reviewed holistically and the business questions are taken into consideration.
"Then we get together and shake out the top 10 and top five," Scott said. "It's a tough process and there have been some close calls. The final decisions often come down to instinct."
"We'll ask, if you had money to invest, which designer would you invest in," she said.
So far, the resulting grant recipients range from the intricately carved rings of the newest winner to the tiny painted pendants of the inaugural grantee, with a range of beautiful jewelry in between. All eight winners are still successfully pursuing their art in a tough business climate.
Each artist found a unique challenge within the application process, though Scott said the questions that applicants have the most trouble with usually have to do with production and capacity or identifying their target market.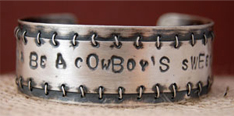 Amy Fortunato of Boulder, Colo., won the 2010 grant with her Cowboy's Sweetheart jewelry line. Her sterling silver jewelry is loosely inspired by the American West, and includes accents of semiprecious gemstones, copper, pearls and leather. The grant money allowed her to buy a new computer and update her website to better compete in the Wild West of e-commerce.
Return to Top
---
"Being as specific as possible and identifying patterns in their customers' buying is key," Scott said. "They need to really understand their customers intimately instead of just generally as women."
"Realizing the emphasis that is put on knowing your target market was a real "aha" moment for me," said Freedline. "The fact that I had absolutely no information about who is most likely to buy my work was a real wake-up call."
Also crucial, Scott said, is really getting down to quantifying production capacities. Are you going to need help? Is your capacity going to be enough for you to make a living? Do the numbers add up? For each grantee, the grant and their winning business plan helped them identify and adjust their business capacities as needed.
"When I applied for the grant, I was just getting to the point of needing to hire an assistant. I had just done my first trade show, and had lots of orders to fill," Khalsa said. "My budget was very small, and the grant came at the absolute perfect time for me to hire help and purchase materials to fill my new orders."
"Before the grant I had one part time and one full time employee, I maintained this scenario until September 2011, when I felt a desire to scale back and concentrate more on what my objective was," said Barer.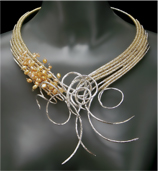 VOSTENAKstudios creator, Valerie Ostenak, of Cottonwood, Ariz., won the 2009 grant. Ostenak's jewelry line uses fluid lines of silver and pearls to create one of-a-kind statement necklaces, hairpieces and earrings. Her business plan involves partnering with galleries to allow her to concentrate more time on the creation process.
Return to Top
---

"It was cathartic, taxing, liberating and empowering all at the same time, and entirely worth the 14 months I took putting the proposal together."
~ Rebecca Rose

Each grantee says their business and their art have benefited from the Halstead Grant process.
"The questions were reflective of the thoughts and ideas I had mentally mulled over for a while, the most difficult aspect was harnessing all of my ideas and transferring them on paper. It was cathartic, taxing, liberating and empowering all at the same time, and entirely worth the 14 months I took putting the proposal together," Rose said.
"Before the Halstead grant application, I hadn't really thought everything through, " Ostenak said. "I had a vague idea about what I wanted to do and I had vague ideas about how I was going to do it. At the time, I thought it was a plan, but when I sat down and filled out the application and really attacked the concept, I realized I had no idea what a business plan was."
"I've told Hilary this - it's like I really wasn't a business person until that point. That's when I realized what it took to be one," Ostenak said. Elnora said she found the process to be an eye-opener, also.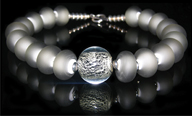 The 2008 grant went to Bridgland Studios - the team of Jay and Jennifer Bridgland of Oakland, Calif. Jay Bridgland creates flameworked glass forms. The structure and form of each glass sculpture and the detail required to create each bead is critical to the success of the necklaces and pendants making each a wearable work of modern art.
Return to Top
---
"I had never before outlined a business plan, for the typical reasons. It's not an easy thing to do, and that I was afraid that once I actually sat down and got realistic with the numbers, I would see that my dream was impossible. What an incredible thing it was to go through the process and discover the opposite - that the more I worked through the business plan, the more I could see that my goals were within reach," she said.
After the raves for just the process, it's not surprisingly that an actual Halstead win is pretty beneficial, too.
"It has given my little business some street cred, commanding a level of respect in a very saturated market, said Fortunato. "Also, I have gained a friend in the industry. After years in the business, Halstead knows a few things about what it takes to succeed in the art jewelry industry, and that has been a valuable resource to me."
"The Halstead grant has been wonderful for the business," Jay Bridgland said. "The grant award also gave me the confidence to implement my business plan and carry it through. It has helped with goal setting for the business and has helped with business planning and budget."
Just as each grant winner is unique, each year's grant pool has its own personality. Each year, the Halsteads' judging process and experience depends on the design talents and level of business sophistication. One thing that has been consistent, Scott said, is the gradual increase of business savvy in the jewelry industry.

Taos, N.M., artist Belle Brooke Barer won the 2007 grant. Belle Brooke Designs' jewelry is a mix of the modern, organic and geometric, with a nod to art deco designs. Barer says the grant gave retailers confidence in her not just as a designer, but as a serious business woman who they could trust.
Return to Top
---
"The applications have gotten more sophisticated over the years. Jewelers are becoming more business savvy. Candidates are now taking seminars before they've even heard of the grant," she said.
Even so, the grant process usually takes the applicants to a deeper level. According to Scott, despite the number of seminars available, most of the most popular ones usually focus on a general level.

"The grant application forces you down to the nitty gritty."
~ Hilary Halstead Scott

"They're talking about general business and marketing, they're not handing out work sheets and telling participants to run some numbers," she said. "The grant application forces you down to the nitty gritty."
This surge in business education opportunities is springing up at a grass roots level. It has been spurred, in part, by the micro business revolution born of Ebay, Etsy and the DIY wave. Slowly, however, formal jewelry programs are seeing the need to add a business component to their curricula.
"Formal jewelry education is starting to evolve. I think they are seeing the demand and the wheels will start turning," Scott said.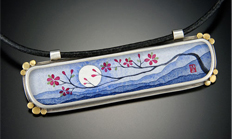 Ananda Khalsa of Providence, R.I., was Halstead's first winner in 2006. Ananda Khalsa Jewelry incorporates tiny original paintings and precious stones into sterling silver jewelry. Khalsa captures the feel of ancient jewelry while creating work with a modern and wearable sensibility.
Return to Top
---
The Halsteads look forward to continuing encouraging jewelry artists to embrace their business side far into the future. All they know about each year's crop of applicants is that there will always be surprises - and for Scott, that's a prize in itself. Part of the joy is finding the unexpected, she said.
"Susan's work, for instance, was fascinating to me because it used linear perspective - something I had never seen done before in jewelry as an art form," she said. "I find it exciting that there are artists who - after thousands of years of jewelry making history - are coming up with new interpretations for this art form."
Return to Top